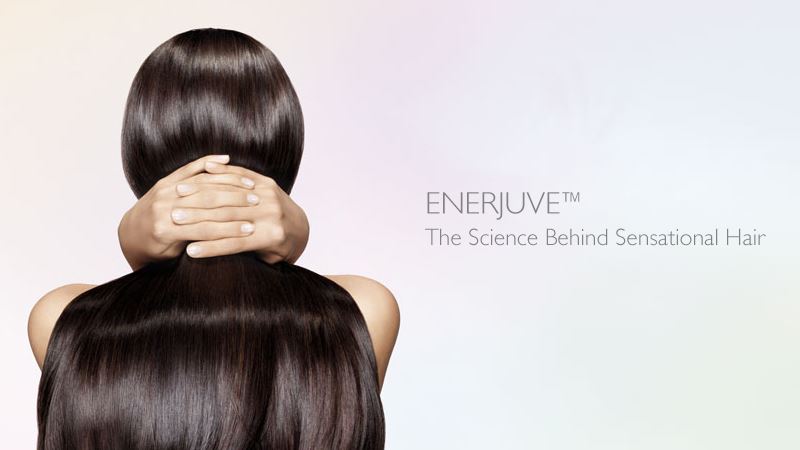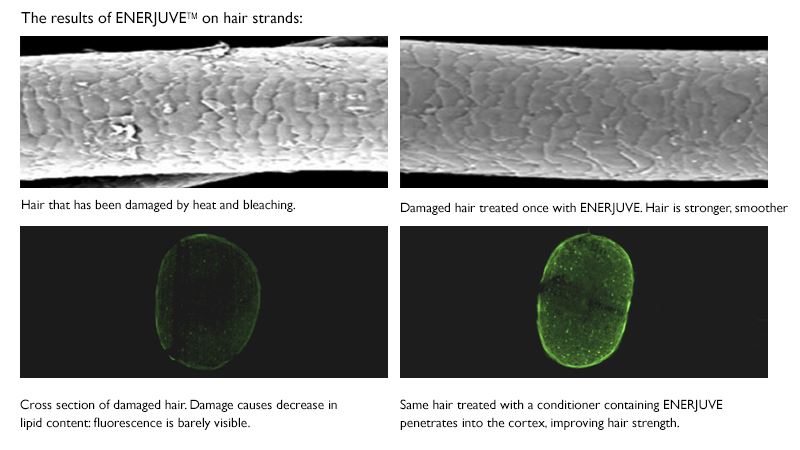 SATINIQUE EXCLUSIVE TECHNOLOGY
ENERJUVE™ - the heart of SATINIQUE
Combined with naturally derived botanicals
Our exclusive ENERJUVE –a patented, positively charged complex of strengthening lipids, reinforcing creatine and smoothing 18-MEA – works three ways to correct the negative charge found in damaged hair: it penetrates the core, selectively binds to damaged areas and fortifies weak spots to help repair and revitalise from the inside out. As a smart complex, it discovers by itself damaged/weakened areas of hair repairing and revitalising hair.

18-MEA as part of ENERJUVE is a natural, extremely vulnerable component of the hair surface responsible for healthy, shiny hair. More than 80% of it is lost through a single hair colouring and cannot be regenerated naturally.

ENERJUVE helps restore 18-MEA to maintain silky and easy to comb hair.

Scientists discovered that when hair is damaged it gains a negative charge. This damage makes hair weak, frizzy, and lifeless.

ENERJUVE exclusive to Amway works to correct the negative charge found in damaged hair. ENERJUVE addresses many signs of hair damage and works on multiple levels to transform hair, leaving it healthier-looking and more alive than ever.

HOW ENERJUVE WORKS
The breakthrough ENERJUVE complex nourishes hair from the inside out, working on three levels to transform hair.

CORTEX IS REINFORCED
Level 1: The strengthening and hydrating ingredients – creatine and amino acids – enrich the inner keratin fibers of the cortex, fortifying and repairing the hair shaft.

CUTICLE RECONSTRUCTED
Level 2: Structural lipids and amino acids penetrate into the cuticle layers of the hair, making them stronger while maximizing moisture holding ability. Instantly hair looks and feels stronger.

SURFACE RENEWED
Level 3: Smoothing lipids and 18-MEA restore the keratin cells on the cuticle's surface, allowing them to lay flat. As a result, hair feels soft and smooth, looks shiny and is noticeably healthier-looking.

ENERJUVE is present throughout the entire SATINIQUE collection. Including all shampoos and conditioners and selected treatments.


ENERJUVE™ INGREDIENTS
A CLOSER LOOK
The ENERJUVE complex nourishes hair from the inside out, working on multiple levels to transform and repair hair; composed of lipids, creatine and 18-MEA.


Long-chain molecules impart structural integrity to the hair.
Composed of ceramides 2 & 3, cholesterol and fatty acids.
Components of the Cell Membrane Complex act as a cement to help 'glue' cuticle layers and cortical filaments together.
Key component to help maintain the integrity and moisture of hair.
Unique fatty acid found only in hair.
Component of the Cell Membrane Complex that binds to the outside of the cuticle for protection.
Contributes to shine and smoothness of the hair.
Natural amino acid derivative which has been shown to benefit the hair. Helps improve strength to damaged hair by reinforcing electrostatic bonds.
Works synergistically with lipids to improve hair strength and elasticity.