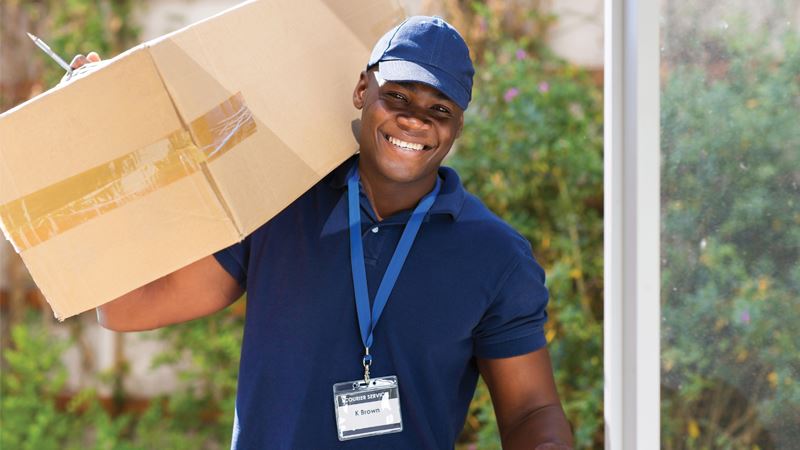 Deliveries
Your guide to doing business with Amway

Delivery Information
We've partnered with Skynet Worldwide Express and for South Africa, Namibia and Botswana. Together with this partnership, we offer you a unique delivery network.
Similarly, we have launched a unique Door-To-Counter Service in partnership with Pep Cell.

Our Delivery Network
Our Home Delivery Network provides reliable delivery services to the majority of towns throughout southern Africa, while recognising that home delivery may not be feasible in some areas due to distance and isolation. An alternative delivery or pick-up point would then be arranged for these destinations. Please phone +27 21 405 1700 should you experience any challenges with deliveries.

Postal Delivery now available in *South Africa!
Door to counter service
Minimal cost of R55
Collect from your local post office
Choose the postal delivery option when shopping on www.amway.co.za or request it through the Contact Centre.

Our Delivery Times
Orders are delivered between the hours of 07h00 and 18h00 (Mon to Fri). In the event that there is no one to receive the delivery, the driver may, in the interest of security, leave a sticker on your door asking you to contact the driver's depot.

Delivery Systems
The products you purchase on the phone, by fax or on www.amway.co.za will be dispatched to your delivery address that is reflected on our database. Deliveries for Namibia will go directly to Skynet's Namibia depot in Windhoek and deliveries for Botswana will go directly to Skynet's Botswana depot in Gaborone, unless Transhipment (home delivery) has been selected, transhipment fee has been paid for and the delivery address has been specified. Orders for collection from the Amway Kiosk at Skynet Francistown, Botswana, will first be delivered to the Skynet depot in Gaborone and then transhipped. ABOs who use the Postal Delivery option in South Africa must collect their order from their designated post office.

Collection of Pick-up orders at Amway Business Centre or Product Selection Centres
To assist you with collecting your pick-up orders placed online from our Amway Business Centres and Product Selection Centres, please use this guide.
The hours indicated include only working days (Monday to Friday).
Central Warehouse – 24 hours
ABC Longmeadow – 48 hours
PSC Southgate – 48 hours
PSC Pretoria – 48 hours
PSC Durban – 72 hours
ABC Cape Town – 96 hours
Should you wish to collect your order from our Amway Business Centre or Product Selection Centres, please note the hours of operation.
Amway Business Centre (ABC) Cape Town
Monday to Friday 10h00 to 19h00
Saturday 09h00 to 15h00

Amway Business Centre (ABC) Longmeadow
Monday to Friday 10H00 to 19h00
Saturdays 09h00 to 15h00

Product Selection Centre (PSC) Durban
Monday to Friday 09h00 to 18h00
Saturdays 09h00 to 15h00

Product Selection Centre (PSC) Southgate Mall
Monday to Friday 09h00 to 18h00
Saturday 09h00 to 17h00
Sundays and Public Holidays 09h00 to 15h00

Product Selection Centre (PSC) Pretoria
Monday to Friday 09h00 to 18h00
Saturday 09h00 to 15h00
ALL NEW DOOR-TO-COUNTER SERVICE WITH  PEP CELL
The process is easy and for single orders only:

• Place your order telephonically via the Amway Contact Centre. At this stage, Pep Cell delivery
is open to South African ABOs.

• For ordering convenience, the Contact Centre will assist you with the closest Pep Cell branch
to you.

• Upon Pep Cell's receipt of your order, they will send a confirmation SMS to your cellphone with
a unique *Paxi collection pin, requesting that you collect your order. Please provide this
pin with a copy of your ID upon collection.
Should you not collect your order after 3 working days, a second reminder will be sent to you and
if not collected after 6 working days, a third SMS will be sent out, notifying you that your order
will be returned to Amway, should you not collect.
This is another innovative project whereby Amway partners with you to support and help you
grow your business.

*Paxi = Parcel Taxi
For South African region on single orders only: R50.00

*Terms and Conditions: this service is only available in South Africa and restricted to single orders only.
Return and Exchanges
Product can be returned to Amway as stated in the Amway 100% Satisfaction Money Back Guarantee.

Returns can be delivered (at ABO's cost) or sent to all Amway Business Centres. This includes the Amway Warehouse in Johannesburg, the Amway Business Centres in Johannesburg and Cape Town, the Product Selection Centres in Johannesburg, KwaZulu-Natal and Pretoria.

PLEASE NOTE
All items marked with an * are available while stock lasts. However, Amway reserves the right to substitute a similar product of equal or higher value at no extra cost. Technical specifications may change without notice, subject to availability of supply.

All stated sizes, weights and capacities are approximate. Size codes used are: H = height, D = depth, W = width, L = length.

Every effort is made to ensure that colours shown are accurate; however, there may be slight variations due to printing processes.

All products comply with relevant southern African Standards and Directives.

Products marked with the ‡‡ symbol in Amway Literature are not covered by the Amway Satisfaction Guarantee. They are covered by separate guarantees which are explained in the information contained in the product package. Please contact Amway South Africa for further details.

Where purchases are made at any of our Physical Shop locations and paid for using cash, the order total to be settled will be rounded down to the nearest 5 cents. All purchases settled with either credit or debit cards will not be eligible to be rounded down.