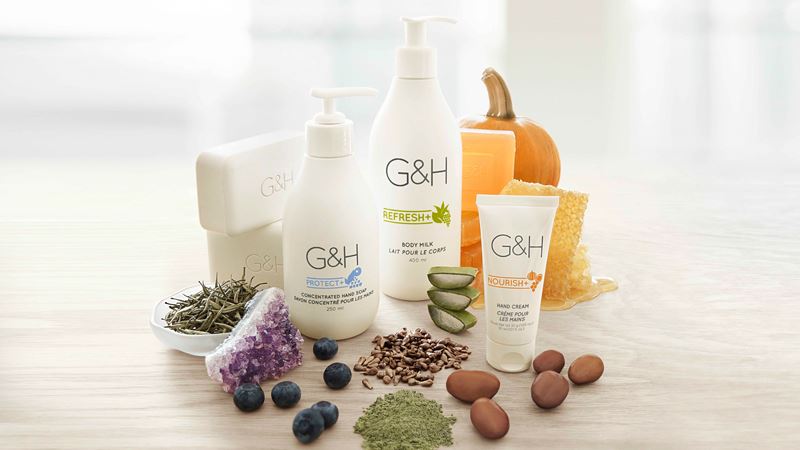 ABOUT G&H
Amway™ has long offered families holistic body care to keep them feeling and looking healthy all over. Now experience the next generation of top-to-toe care with the G&H body care collections.

With G&H body care, skin is treated to harmoniously balanced, moisture-rich goodness. Because you want the best for your family, and yourself, we develop each collection with advanced nutritional and skin wellness expertise, and harmoniously blend and balance our formulas with carefully chosen botanicals and ingredients from nature. All to guarantee that every last drop, dollop, and caress of G&H goodness leaves skin looking and feeling healthy and happy every day.

The G&H range is biodegradable, free of sulphates and dyes. Dermatologist and allergy tested, our products are designed for the whole family*. G&H contains gentle formulas and packaging that care about you and the environment. All our bottles and cartons are 100% recyclable and manufactured with 100% electricity from wind power.

HOW IS THE G&H BRAND ORGANISED?
G&H body care is offered in three complementary collections: Nourish+™, Refresh+™, and Protect+™. Each features an exclusive blend of botanical ingredients.

WHAT ARE THE MAIN BENEFITS AND INGREDIENTS OF EACH COLLECTION?

NOURISH+
Enriching formulas to help nourish, comfort, and maintain healthy-looking skin. EXCLUSIVE BLEND: Orange Blossom Honey, Shea Butter, Pumpkin Seed Oil.

REFRESH+
Balanced formulas to help refresh and hydrate while soothing the skin. EXCLUSIVE BLEND: Aloe, Grapeseed Extract, Green Tea Extract.

PROTECT+
Worry-free formulas to help protect against odour, impurities and wetness while maintaining healthy-looking skin. EXCLUSIVE BLEND: White Tea Extract, Natural Minerals, Bilberry Extract.

WHO WAS G&H DEVELOPED FOR?
That's easy: everyone. Women, men, and children* can all enjoy healthy-looking, balanced skin with G&H products.

WHAT MAKES G&H PRODUCTS SPECIAL?
Exclusive blends that combine botanical extracts with our scientific expertise to deliver formulas with improved performance and demonstrable results.
Love-at-first-try, products that are suitable for everyone: Women and men. Boys and girls. All ages*, all skin types, all around the world.
Environmentally sensitive solutions—from package design, to product formulation, to manufacturing—that help protect our futures as well as our families.
* G&H products are not recommended for use on infants.
G&H NOURISH+™
G&H REFRESH+™
G&H PROTECT+™